This part is required for building a LEGO steering rack. It connects the moving rack to the wheel axle.
3
On Bricklink, that's called Technic, Pin Connector Perpendicular 3 x 3 Bent with 4 Pins.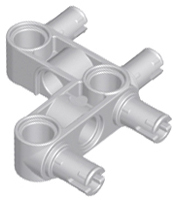 It has known design IDs 55615 and 49130. And in Light Bluish Gray has item numbers 4296059 and 6313453.
1