We've been having fun putting together the 71040 Disney Castle. But we keep wondering: which parts are in this set that haven't been in any other set with these particular colors?
I've seen this information presented in other Designer Videos, but for the Disney Castle Designer Video they're spending their time playing with Mickie and teleporting from Denmark to Anaheim, CA so the unique parts are barely mentioned. For instance, they don't talk about the 19121 Fence which is new to this set in white: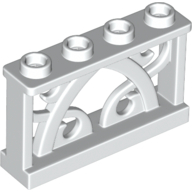 I also have found bricklink's part list for it but I don't see how to filter that down to unique parts. Is there an easy way to cull this from bricklink or another LEGO set database?